Oh, Mahan: Maritime Politik and its Global Prewar Welts
On 26th June 1897, a mass of black hulls, white superstructures and yellow funnels were arrayed in an overawing assertion of British naval might[1] fit to charge a nation with the arcing electric of impassioned jingoism[2]. The polity which these overwrought histrionics masked was, indeed, in need of such an analeptic: the insular position which had long 'enabled her to serve as the "balancer" of the European state system and be the primary beneficiary of the European... control over the world's oceans'[3] was perched atop an eroding precipice. The ascendant engines of colonialism, nationalism and navalism in Russia, France and Germany 'meant the end of Britain's low-cost piecemeal, largely inherited naval superiority.'[4]. As progress acidised the pages of the world order, so a newly politicised generation set about inking clean sheafs with patterns and notions intricate enough to match their attendant isms. German weltpolitik[5], French revanchism[6], Russian expansionism[7] and the end of British 'splendid isolation' all conspired to draw the Great Powers a fractious, dysfunctional family whose antagonisms could but lead to feud. Among the sharpest of Continental splinters was that of the Anglo-German naval race, whose barbed vehemence drove the citizens of both nations to extremes of mutual malcontent. The broader cults and 'folkloric appropriations'[8] of the navy were only served in both nations by the campaigns upon which mass media embarked to drive incessant hysteria among the wider populace - 'we want eight,' so the nationwide chime droned, 'and we won't wait'.[9] As Europe paved her way along history's winding road, the miasma of Anglo-German enmity hung in dense clouds over the heads of its constructors, darkening a mood already ashen with the fractious tensions that would erupt into the Great War.[10] The unprecedented conflagration of high seas armaments - whose burgeon not even willed international arbitration could stem[11] - partnered to its concomitant public hysteria and international insecurities was among the gusts in the international gale which saw Europe's Concert ship run aground in 1914.
Heinrich von Treitschke, a liberal apostate who attained notoriety for his role as expansionist evangelical at Berlin university,[12] exerted 'a great impact on [the future Admiral von] Tirpitz…'[13] through his trenchant of widely attended lectures holding Britain the 'Great' cork bottling an explosive Germany[14], and the Jews dangerous to her national unity as a cosmopolitan element within a society on infirm cultural and traditional ground[15]. The nascent disenfranchisement with the "bottling" of Germany engendered in Tirpitz grew in pace with the years he spent among what rusting vessels constituted her navy from 1865,[16] and it was this which would propel him as reforming vanguard to the forefront of the nationwide drive for naval rearmament in the years preceding 1914. The Admiral's overseen High Seas Fleet eruption is taken by many to be of absolute primacy in 'the rise of the Anglo-German antagonism',[17] a notion which the prevailing tides of militant globalism would appear to support. Naval elites across the world adopted the language of 'world power' to actualise their present pride and ascribe to their future absolutist aspirations of the kind familiar to empire since the time of Constantine.[18] As Hans Delbrück's influential essay of 1897 painted the gun-greys of contemporary public mood - 'we want,' he wrote of the German people, 'to be a world power and pursue colonial policy in the grand manner. That is certain. […] The entire future of our people among the great nations depends on it.'[19] - so Rear-Admiral George Melville declared supremacy across the Atlantic: 'Either by reason of our material wealth, force of circumstances, or manifest destiny… we have become a world power.'[20]. Tirpitz himself told his Kaiser in 1899 that Germany was to feature as one of only 'four world powers'[21] that would shape the globe's destiny in the coming century. These convictions fed the masked war machine whose looming gear-grinding overshadowed both imperial policy and the ideologues who sat atop their bristling military forces. The fatalism which inhered within such wanton disregard for aliens did not escape such pre-War liberal pundits as the famous German socialist Karl Liebknecht, whose broad indictment of militarism, Militarismus und Antimiltarismus, declaimed 'Navalism, or naval militarism… the twin brother of militarism on land… is at present, to a still higher degree than the militarism on land, not only the consequence but also the cause of international dangers of a world war.'[22] It is clear that complacency endemic to command and unstoppable surges of populist opinion had brought record temperatures to international relations. The hulking, iron beasts which floated as the results of both only served to boil what was already simmering.
This 'naval militarism' owed its international crystallisation to Alfred Thayer Mahan, whose readings of the German historian Theodor Mommsen had led him to question 'how different things might have been could Hannibal have invaded Italy by sea… instead of by the long land route.[23] His theorising produced The Influence of Sea Power Upon History, a grand tome from whose preface, introduction and opening chapter his acolytes drew a charged ideology.[24] At its clearest, Mahan's principle of war on the ocean told that 'defence is insured only by offence, and that the one decisive objective of the offensive is the enemy's organised force, his battle-fleet.'[25] That this understanding enmeshed itself with Tirpitz's needs little more testament than that his Service Memo IX reasserted Mahan's position in no uncertain terms: 'Those who consistently advocate the defensive,' he wrote, 'often base their argument on the premise that the offensive enemy will present himself to do decisive battle wherever that might suit us. This is however only the case to a very limited extent.'[26] The length of Mahan's reach was unbound - within a few short years, his weighted tome had entered monarchic hands and penetrated elite markets across the Continent. In 1894 the Kaiser informed a friend 'I am just now not reading but devouring Captain Mahan's book and am trying to learn it by heart… it is on board all my ships and constantly quoted by my captains and officers.'[27] As The German historian Peter Walkenhorst describes, '[German] navalism was decisively shaped by American maritime theoretician Alfred Thayer Mahan, forming the central discursive context for the German fleet.'.[28] The question of weltpolitik obsessed Wilhelm less than did that policy's nautical arms directly - a collection of juvenile artwork recently unearthed[29] demonstrates his even prepubescent fascination with oceangoing. As Tirpitz's incessant lobbying eroded what little resistance Wilhelm may have had to an expansion of the navy, 'he became obsessed with the need for ships, to the point where he began to see virtually every international crisis as a lesson in the primacy of naval power.'[30] Mahanic theory supplied just the respected manifestation of a potentate's nascent fantasies to bring both springing from floating in mind to floating upon the ocean.
Wilhelmine naval policy was an inchoate medley of ideologies, however, and sorely lacked in objective cohesion. Weltpolitik, in all its cognominal magisterium, was the flag to whose support the fleet was built, but the tenets which it supposedly encompassed were never made concrete.[31] In 1900, former chief of the General Staff General Alfred von Waldersee noted in his diary 'We are supposed to be pursuing Weltpolitik. If only I knew what that was supposed to be.'[32] It may have been the chaotic, open-ended nature of German foreign policy which attracted the British eye. Following the invocation of the new German navy law in 1898[33], the British government became increasingly suspicious of the direction which the relatively neighbourly Teutonics planned on pointing their newly fabricated 12-inch guns. Tensions were exacerbated by the recent strides armament technology had made in its field - one accustomed to stagnation. The century's turn and invention of gyroscope-guidance systems had brought the effective ranges of torpedoes and naval artillery screaming into much closer proximity[34], making naval upgrades a technological imperative. The Dreadnought, a fearsome response to these modern concerns, incited much interest from both English and German parties throughout her protracted development. The editorial board of Jane's Fighting Ships was much impressed in May 1905 upon learning her specifications: 'It is hardly too much to say that, given her speed, gun power, range and the smashing effect of heavy projectiles, the Dreadnought should easily be equal in battleworthiness to any two, probably to three, of most of the ships now afloat.'[35] With the most indomitable vessel ever constructed now afloat and likelihood of an Anglo-Russian accord growing by the day, German leaders were awakened to the possibility of encirclement. Mindful of Frederician tradition, The Kaiser remarked in 1904 that 'the situation begins to resemble that before the Seven Years War.'[36] Preventative war crackled on the fringe of consciousness and, with British naval spending increasing year upon year[37] despite the best efforts of liberal lobbyists in parliament[38], the Wilhelmstrasse's frayed nerves were only made to tremble further by the revelation that Royal Navy maneuvers had featured Germany as presupposed enemy. The Japanese surprise attack on Port Arthur brought with it a refreshed awareness of preemptive strikes, and British anger had already been piqued by German logistical support for the Russian fleet. In February of 1905, the Civil Lord of the Admiralty delivered a speech which justified concentration of naval forces in the North Sea by pointing to the growing threat posed by their continental neighbours. With such an overwhelming coalescence, he intoned, the 'Royal Navy would get its blow in first before the other side had time to read in the papers that war had been declared.'[39]. The wan spectre of Kopenhagen and its attendant isation haunted Tirpitz, Wilhelm and the conservative Reichstag[40] as its martial elements fell to in amalgamating and arguing their nation's most expedient attack and defence plans. By early 1905, the historic Anglo-German enmity was worsened by the cross-purpose conversation of German colonial ambition and economic expansion with British diplomatic interests. The Moroccan Crisis of April brought with it increased fear that the British would descend upon Kiel and send her anchored fleet to the depths[41]. John 'Jackie' Fisher, a prominent post-Boer naval reformer, made no motion to allay the currents of fear which blew on the cold winds - following Lord Lansdowne's despatch of a cross-Channel missive aimed at resolution of the Tangier Crisis, the Admiral simply observed that the foreign secretary's 'note will hold back the German emperor before going too far… and we shall be cheated out of our trip to Kiel.'[42]
That Westminster and the Wilhelmstrasse were in a heightened state of perpetual mutual awareness appears, then, an incontrovertible conclusion. Their heated competition and mutual suspicion could but lend dark weight to foreign policy, guiding both to cyclical repetition of discord. The laboured breathings of diplomacy could but be snatched away in the overwhelming cyclone of rising armaments which would drag the entirety of Europe into its orbit. Not so, claim a significant section of revisionists,[43] who descry a fundamental defect in traditionalist readings of the Anglo-German naval race and its primacy as a casus belli. The first strand holds that British Diplomacy aimed to counter a Russian threat, while the other, subsequently devised, intimates that British naval building, rather than trained on Germany, was a frenzied response to the expanding questions which the entire gamut of rising global powers posed. In this reading, Russia's completion of the trans-Siberian railroad handed the northern imperialists the '42-centimetre gun pointed at India'[44] which the satellite territories within the peninsula's orbit had long been seen to represent. Rapid mobilisation of troops on the Afghan border could lead to an overwhelming storm of India's Northwest Frontier,[45] circumventing Britain's overbearing naval preponderance.[46] Given the 1904 Anglo-French entente and the subsequent birth of its Anglo-Russian cousin in 1907, however, the motion to read into Westminster a general mistrust of the Czarist court appears misguided.
More convincing are recent studies[47] imputing a prismatic naval policy fielded by Fisher[48] - which see the legion correspondence and memoranda supporting British naval administration prior to 1914 analysed and wrought to form compelling conclusions. Both Jon Sumida and Nicholas Lambert propose that the Dreadnought's only teleos was to function as holdover prototype - a floating platform upon which to weld the steam turbine and a full array of big gun armaments - in an effort to verify their functionality. Fisher would then adjust the course of naval construction such that it would slide into the imperialist dock, driving a heavy focus on warship hybridity with the 'battlecruiser'[49]: a sleek, lightly armoured raider armed to the teeth and light enough to outpace the traditional battleship while outgunning the cruiser. Given the rate at which they could carve up both the waves and enemy armour, Sumida and Lambert contend that Fisher intended these vessels to act in the defence of imperium and her possessions[50], suggesting a lack of interest in or fear of Germany. Fisher, Sumida argues, believed British home waters, trade routes and imperial possessions were equally vital - 'one could not be emphasised at the expense of the others without risk of disaster.'[51]
Indeed, Germany's abject failure to bridge the tonnage gap within Tirpitz's projected window lends credence to this apathetic model. In 1900, the British had a 3.7:1 tonnage advantage, in 1910 the ratio was 2.3:1 and even by 1914, remained 2:1:1[52]. In 1907, Fisher composed a piece of braggadocio to his sovereign declaring that 'England has 7 dreadnoughts and 3 invincibles, while Germany [has] not yet begun one!'[53] Perhaps such bluster was justified: 'So decisive was the British victory in the naval arms race,' wrote Niall Ferguson, 'that it is hard to regard it as in any meaningful sense a cause of the First World War.' In 1913, Tirpitz declared himself satisfied with Britain's demanded ratios and German naval command formally renounced any further involvement in the naval race. The same year the two nations reached ratified accord over the Portuguese empire's possessions in Africa.
The future onlooker may, therefore, be forgiven for surmising a chink of 1913 sunlight breaking through the chill of Anglo-German relations. To do so, however, would be to overlook the sparking thunderkeg which lay beneath government and the public at large.[54] Both the provocations of newly minted mass media[55] and avaricious exploitation of alarmist views by politicians in both countries served to crush public opinion into a mess of fomented hysteria. To conservative politicians, 'Radical Jack' Fisher's dreadnought and attendant naval reforms unnecessarily outmoded the large battleship navy, risking security for the sake of fiscal economy.[56] These traditionalists believed genuinely in a Liberal conspiracy to sabotage national security, and thus maintained minute scrutiny of both German and British naval building to prevent the issue slipping from public view. Once reports of Germany's supposed ability to overtake Albion's dreadnought building and capacity reached the popular press, a panic settled in to take roost upon the nation. An overriding obsession with the numerical correlation of international arms was fuelled by politicians who 'seized' the figures created by 'experts… count[ing][the] dreadnoughts afloat or building' such that they could be reduced to 'the currency of campaign slogans.'[57] Across the empire, provocative suppositions and predictions were spewed into the public eye by duplicitous newspapers hungry for belligerence. In a remarkable parallel to the dangerous media paradigms of our own day, right wing provocateurs were allowed regular platforms from which to grandstand, attaining disproportionate influence as a result. 'Mr M'Kenna,' reported the Australian Sunday Times 'declares that we must be prepared to meet the contingency of Germany having seventeen ships of the 'Dreadnought' and 'Invincible' type by the spring of 1912… acceleration of building is necessary.'[58] 'If Germany were extinguished tomorrow,' supposed the Saturday Review, 'the day after tomorrow there is not an Englishman in the world who would not be richer.'[59] Arthur Balfour, shadow Conservative leader after 1905, viciously attacked the Liberal Government's claim that Britain had a sufficiently large navy. 'Those ships, of the number of which they boasted, were the ships we left behind.'[60] - meaning that Liberal estimates included vessels his government had considered obsolete at the time of their resignation. Yet the readily available statistics exist outwith alarmism and disprove the raving: between 1904–1910, Britain had increased the number of battleships from 16 to 44, first-class cruisers from 13 to 37, of small cruisers from 30 to 58, of destroyers from 24 to 121, of torpedo boats from 16 to 88 and of submarines from none to 59.[61] Just how many vessels would satiate the steel-lust of the armaments advocates? Winston Churchill excoriated his Conservative opponents for their influential mendacity in 1910: 'The attitude of the Conservative party with regard to the navy has been a disgrace… It was the most contemptible policy ever pursued by a great party; it was a policy of trying to raise a panic without reason, a policy of trying to raise ill-will between two great nations without cause, a policy of decrying and belittling the fleet and trying to get money out of the pockets of the weak and poor. It was the lowest depths to which any great party had ever sunk.[62] Those who cried 'we want eight' were as much victims of ceaseless propaganda as genuine agitators.
As popular opinion surged in great turbulent, incensed waves in both countries, German command's 'nightmare'[63] was gaining in corporeality with every passing year. Geographically locked in Europe's heart, an aggressive foreign policy and unwise choice of nations to wed had brought international encirclement of the kind that had kept Bismarck from sleeping[64] to reality. To the west lay France, popularly enraged by the loss of Alsace and Lorraine in the Franco-Prussian war 1870–71, while the east held Russia - an imperial nation with whom Germany had pursued an active policy of estrangement by refusing to reaffirm the Reinsurance Treaty[65]. Bismarck had subdued revanchism by backing the French quest for empire, but Wilhelmine Germany antagonised its neighbour by opposing their imperialism - notably in the Moroccan crises of 1906 and 1911. It was the Kaiser, too, who had 'pushed navalism'[66] and succeeded in the scrivening of his country's endemic distaste for the Angles. The signing of the Anglo-French entente in 1904 apparently provided Wilhelm 'much food for thought,' - the dissolution of Franco-English distaste made their 'need to take account of our position… ever more pressing.'[67] Indeed, the Entente asserted that Germany was Europe's central war engine - that her numerically superior army, enthusiastic embrace of war prophets like Nietzsche and Bernhardi and ever-present pan-German league made her an enemy of peace, to be castigated and controlled.[68] The apparent international motions to "corner" the Fatherland were both real and imagined; certainly informed by the continental discord Anglo-German navalistic enmity caused.
It is, therefore, dubious to presume the question of Russia predominating either in the British foreign office or at Westminster. Certainly, as the revisionist accounts maintain, an economic fear of the Czarist Bear is likely to have existed, but ascribing it the primacy of that generated by Germany is simply ludicrous. Outwith their martial quarrels, England and Germany were simultaneously locked in fiscal combat as globalisation and the tearing free of trade barriers created wealth vacuums across the globe. Indeed, Hugh Kennedy's The Rise of the Anglo-German Antagonism cites both nations' growing economic disparity as the principle element in sparking their mutual distrust.[69]. By 1900, Germany had matched Britain's iron and steel production: between 1907–1914 it was almost double that of their island rival.[70] While it was feasible that Russia's economy could eclipse Britain's within a few decades, the economic preponderance of Germany was a process in near visual proximity - a spectre whose approach few British statesmen can have been likely to welcome. The Germans had also developed beyond their Bismarckian reliance on exporting food to Britain - and come to focus on manufactured exports. They had even imitated a variety of well-known British products and were exporting them at a lower cost than their official counterparts.[71] In response, Westminster had ratified the Merchandise Trade Act of 1887[72] demanding that all imported goods be labelled, but unfortunately German production had advanced to such a degree that the label 'Made in Germany' became a mark of quality, worn with pride.[73] At the same time, the country began to trade with British imperial possessions, and its expanding global network was seen to pulse in direct competition to Blighty's own. A general dysphoria had settled on Britain regarding the slippage of her economic prestige - some were dubbing it 'the English disease'.[74] E.E. Williams' 1896 bestseller Made in Germany had its success repeated by Frederick Mackenzie with his book The American Invaders in 1902[75]. Both touched on contemporary paranoia - a neglect of scientific and technical skills, it was popularly believed, had led to the distinct economic malaise which afflicted a nation for all the world at the very height of her colonial prowess.
Moreover, the broad historical record contains no substantial undergird to Keith Wilson's contention of a Russophobic Foreign Office[76]. While Edward Grey, Eyre Crowe and other figures acquired reputations as Germanophobes, no comparable cadre of anti-Russian bias was fomented within government. The Foreign Office, rather, had a proclivity to tight observance of Germany's erratic foreign policy. The Kaiser's 1896 congratulatory telegram to the Boors[77], his disastrous Telegraph interview in 1908 [78] and the country's imperial policy more generally impressed upon those in the British foreign service the presence, real and expansionist, of Germany.[79]
Both Michael Howard and John Mueller, meanwhile, have emphasised the 'bellicism' which inhered within European society to a degree beyond the grasp of a modern observer.[80] Social Darwinism and its zealots had set about normalising conflict - promoting the genuine 'normalcy' which warfare was importuned upon to represent. It was the militarisation of politics which had allowed the naval race its uncontrollable bound, and bellicism strengthened the propensity to see a powerful militant force the appropriate answer to international tensions.[81] A pervasive belief in the inevitable brevity of any conflict - despite the invention of repeating small arms, the machine gun, barbed wire, and the development of railroads - similarly led to complacent attitudes among military elites prior to 1914. War, surmised Bethmann Hollweg, would be short and 'decisive' - 'a brief storm'.[82]
Of course, Tirpitz himself dispelled any illusions the revisionist might have had regarding his fleet's provenance: 'For Germany,' so his observation went, 'the most dangerous naval enemy… is England,'[83] with the same sentiment bearing repetition throughout the subsequent years in official memoranda and draft proposals. Why, the Kaiser and his array of Wilhelmine subjects asked, should the British protest sole right to command of the seas?[84] This could not have been any clearer to British government officials: 'The real reasons for the British estrangement from Germany in the years before 1914,' wrote Kennedy, 'lay in the North Sea and along the river Meuse.' Long before Serbian nationalism boiled over in 1914, the 'balance of forces' in London and Berlin had come to perceive their 'national interests' incompatible as either bed-partners or neighbours.[85] Fisher's scopic reforms were disavowed and the imperialist angle along which he supposedly intended to drive the Royal Navy never materialised. After his gentle ease into retirement in 1910, the old Admiral's successors recentred their strategic concept upon the familiar decisive clash with Germany in the North Sea. Even Jacky's protege Churchill refused to impute a lesser value to the dependable battleship, declaring 'I do not believe in the wisdom of the Battle-Cruiser type.'[86] Both the destruction of the Russian fleet at Tsushima in 1905 and Germany's accession to second place in the world's tonnage tables would themselves have presented a knife of enough proximity and serration to bring its stabbing power home in Britain.[87]
That the naval race was not thrashed out between Teutonic neighbours is a fallacious assertion built on ahistorical scepticism and tendentious theorising - Reichsflotte, such as it was, formalised as brazenly as possible within diplomatic bounds the new fleet's function: tonnes upon tonnes of fabricated iron to serve as blunt weapon that the Royal Navy would be left haemorrhaging after confrontation, incapable of defending herself against any other alliance she may have next to face.[88] The economic hammerheads had harangued one another into a proxy conflict fought with tax revenues and public discontent, hatred and normalised aggression. In 1914, the Reverend Charles E. Jefferson published a pamphlet castigating the 'militaristic movement' that had spread across the Western world, leading to the 'phenomenal expansion of the military and naval establishments' in the past thirty years. 'Militarism,' he says, 'blights like a pestilent wind the higher life of nations and eats like gangrene into the vitals of civilisation.' Among its symptoms were the elevation of the battleship to a 'symbol of national glory' and the fetishisation of 'Sea Power.'[89] A not insignificant measure of this bubbling, militaristic cocktail was poured by Anglo-German belligerents in an arms race that contributed greatly to the dark uncertainty so loathed by foreign offices across the globe. 'The enormous growth of armaments in Europe,' began Sir Edward Grey in his retroactive memoirs, 'the sense of insecurity and fear caused by them - it was these that made war inevitable.'[90] There is no doubt that the crisis in July 1914 was crisscrossed with the fractured cuts of a thousand European laments. That Germany's great, factory-shuddering naval race with Britain was among the deepest inflicted upon Europa's aggregate mountains, forests and seas is none too dubious an assertion.
Appendix 1
Youthful Wilhelm's boating Besessenheit: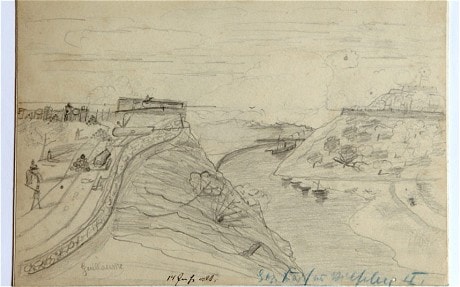 Appendix 2
British Naval Expenditure, 1889-1914:
| | | | | | | | | | |
| --- | --- | --- | --- | --- | --- | --- | --- | --- | --- |
| Years | Naval Estimates (Net Naval Spending) | Gross Naval Expenditure | % Age of Add'l | Spending on Shipbuilding, Repairs and Maintenance Votes 8+9 | % Age of Gross | Spending on Naval Works Vote 10+ NDA | % Age of Gross | Spending Personnel Votes 1,2,7,13,14 | % Age of Gross |
| 1889-1890 | 13,643,968 | 15,588,502 | 14 | 6,460,001 | 41 | 437,316 | 3 | 6,374,311 | 41 |
| 1890-1891 | 13,910,732 | 18,061,816 | 30 | 6,676,628 | 37 | 411,563 | 2 | 6,640,375 | 37 |
| 1891-1892 | 14,278,732 | 18,150,638 | 27 | 6,746,216 | 37 | 385,762 | 2 | 6,912,539 | 38 |
| 1892-1893 | 14,325,948 | 17,402,741 | 21 | 6,635,612 | 38 | 413,739 | 2 | 7,116,460 | 41 |
| 1893-1894 | 14,306,546 | 16,327,641 | 14 | 6,357,457 | 39 | 397,149 | 2 | 7,343,120 | 45 |
| 1894-1895 | 17,641,424 | 18,595,685 | 5 | 9,113,968 | 49 | 654,675 | 4 | 7,588,186 | 41 |
| 1895-1896 | 19,637,238 | 21,264,377 | 8 | 10,934,554 | 51 | 1,176,501 | 6 | 7,932,887 | 37 |
| 1896-1897 | 22,271,901 | 23,886,177 | 7 | 13,215,564 | 55 | 1,177,890 | 5 | 8,234,668 | 34 |
| 1897-1898 | 20,848,863 | 22,547,844 | 8 | 11,239,225 | 50 | 1,337,863 | 6 | 8,594,869 | 38 |
| 1898-1899 | 23,880,875 | 26,145,598 | 9 | 13,462,805 | 51 | 1,958,581 | 7 | 9,355,440 | 36 |
| 1899-1900 | 25,731,220 | 28,478,842 | 11 | 15,043,853 | 53 | 2,265,471 | 8 | 9,771,314 | 34 |
| 1900-1901 | 29,998,529 | 33,302,260 | 11 | 18,411,543 | 55 | 3,021,126 | 9 | 10,147,182 | 30 |
| 1901-1902 | 30,981,315 | 34,994,553 | 13 | 19,11,676 | 55 | 3,627,696 | 10 | 10,511,508 | 30 |
| 1902-1903 | 31,003,977 | 35,525,731 | 15 | 18,573,040 | 52 | 3,988,937 | 11 | 10,971,611 | 31 |
| 1903-1904 | 35,709,577 | 40,503,873 | 13 | 22,360,630 | 55 | 4,230,042 | 10 | 11,683,599 | 29 |
| 1904-1905 | 36,859,681 | 41,696,313 | 13 | 22,575,297 | 54 | 4,353,334 | 10 | 12,275,095 | 29 |
| 1905-1906 | 33,151,841 | 38,175,045 | 15 | 19,059,433 | 50 | 4,127,064 | 11 | 12,012,387 | 31 |
| 1906-1907 | 31,472,087 | 35,693,850 | 13 | 17,658,932 | 49 | 3,133,789 | 9 | 12,047,839 | 34 |
| 1907-1908 | 31,251,156 | 33,950,169 | 9 | 16,368,536 | 48 | 2,377,186 | 7 | 12,247,174 | 36 |
| 1908-1909 | 32,181,309 | 35,775,752 | 8 | 16,974,653 | 49 | 1,899,237 | 5 | 12,043,061 | 37 |
| 1909-1910 | 35,734,015 | 37,385,460 | 5 | 19,784,032 | 53 | 1,388,653 | 4 | 13,055,683 | 35 |
| 1910-1911 | 40,419,336 | 43,903,499 | 9 | 24,064,361 | 55 | 1,716,113 | 4 | 13,414,318 | 31 |
| 1911-1912 | 42,414,257 | 46,793,789 | 10 | 25,242,570 | 54 | 1,917,669 | 4 | 13,903,589 | 30 |
| 1912-1913 | 44,933,169 | 48,742,182 | 8 | 27,419,414 | 56 | 1,699,545 | 3 | 14,390,697 | 30 |
| 1913-1914 | 48,732,621 | 52,920,960 | 9 | 29,792,872 | 56 | 2,241,335 | 4 | 15,235,171 | 29 |
Sources:
Jon Sumida, In Defence of Naval Supremacy, Naval Institute Press; Reissue edition (15 Feb. 2014);
Nicholas A. Lambert, Sir John Fisher's Naval Revolution, University of South Carolina Press, 2002
Bibliography:
Adam, Thomas. Germany and the Americas: Culture, Politics, and History: A Multidisciplinary Encyclopedia. Santa Barbara, Calif.: ABC-CLIO, 2005. Print.
Barnes, Harry Elmer. In Quest of Truth and Justice; De-bunking the War Guilt Myth. With a New Introduction by William L. Neumann. Colorado Springs: Ralph Myles, 1972. Print.
Barnes, Harry Elmer. The Causes of the World War. Girard, Kan.: Haldeman-Julius Publications, 1929. Print.
Berghahn, Volker R. Der Tirpitz-Plan; Genesis Und Verfall Einer Innenpolitischen Krisenstrategie Unter Wilhelm II. Düsseldorf: Droste Verlag, 1971. Print.
Black, Jeremy. Naval Power:. New York: Palgrave Macmillan, 2010. Print.
Bönker, Dirk. Militarism in a Global Age: Naval Ambitions in Germany and the United States before World War I. Ithaca: Cornell UP, 2012. Print.
Bracher, Andreas, Thomas Meyer, and Helmuth Karl Bernhard Von. Moltke. Helmuth Von Moltke: 1848-1916 ; Dokumente Zu Seinem Leben Und Wirken. Basel: Perseus, 1993. Print.
Burdick, C. B. "The Short-War Illusion: German Policy, Strategy & Domestic Affairs August-December 1914, by L. L. Farrar, Jr.The Short-War Illusion: German Policy, Strategy & Domestic Affairs August-December 1914, by L. L. Farrar, Jr. A.B.C.-Clio, Santa Barbara, 1973. 207 Pp." Canadian Journal of History 10.1 (1975): 105-06. Print.
Chatterjee, Partha. The Black Hole of Empire: History of a Global Practice of Power. Princeton: Princeton UP, 2012. Print.
Clark, Christopher M. Kaiser Wilhelm II: A Life in Power. London: Penguin, 2009. Print.
Clark, Christopher M. Sleepwalkers: How Europe Went to War in 1914. New York: Harper Perennial, 2014. Print.
Corbett, Julian Stafford. Some Principles of Maritime Strategy. Miami, FL: HardPress, 2013. Print.
Daunton, M. J. Wealth and Welfare: An Economic and Social History of Britain, 1851-1951. Oxford: Oxford UP, 2007. Print.
Davis, Calvin DeArmond. The United States and the Second Hague Peace Conference: American Diplomacy and International Organization 1899-1914. Durham, NC, Duke University Press, 1976. Print.
Dorpalen, Andreas. Heinrich Von Treitschke. Port Washington, NY: Kennikat, 1973. Print.
Doyle, Arthur Conan, and J. M. Barrie. The Complete Works. Newcastle: Cambridge Scholars Pub., 2009. Print.
"Education | British Empire | Living in the British Empire | India | Background." The National Archives. Web. 28 Feb. 2017.
Epkenhans, Michael. Tirpitz: Architect of the German High Seas Fleet. Washington, D.C.: Potomac, 2008. Print.
Ferguson, Niall. The Pity of War. London: Penguin, 2006. Print.
Fischer, Fritz. Germany's Aims in the First World War. Droste: Dusseldorf, 1977. Print.
Fromkin, David. Europe's Last Summer: Who Started the First World War? London: William Heinemann, 2004. Print.
Gooch, G. P., and Harold William Vazeille Temperley. British Documents on the Origins of the War: 1898-1914. London: H.M.S.O., 1926. Print.
Gough, Barry M. The Influence of History on Mahan. Newport, RI: Naval War College, 1990. Print.
Grenville, J. A. S. History of the World: From the 20th to the 21st Century. Place of Publication Not Identified: Routledge, 2011. Print.
Grey, Edward Sir. Twenty-five Years 1892-1916. Place of Publication Not Identified: Publisher Not Identified, 1926. Print.
Hadfield, Amelia. British Foreign Policy, National Identity, and Neoclassical Realism. Lanham, MD: Rowman & Littlefield, 2010. Print.
Halvorsen, Peter. "The Royal Navy and Mine Warfare, 1868-1914." Journal of Strategic Studies 27.4 (2004): 685-707. Print.
Hamilton, C.i. "Anglo-French Seapower and the Declaration of Paris." The International History Review 4.2 (1982): 166-90. Print.
Hehn, Paul N. A Low Dishonest Decade: The Great Powers, Eastern Europe, and the Economic Origins of World War II, 1930-1941. London: Continuum, 2005. Print.
Herrmann, David Gaius. The Arming of Europe and the Making of the First World War. Princeton (N.J.): Princeton UP, 1997. Print.
Herwig, Holger H. "The Failure of German Sea Power, 1914–1945: Mahan, Tirpitz, and Raeder Reconsidered." The International History Review 10.1 (1988): 68-105. Print.
Hinsley, F. H. British Foreign Policy under Sir Edward Grey. Cambridge: Cambridge UP, 2008. Print.
Hobson, Rolf. Imperialism at Sea: Naval Strategic Thought, the Ideology of Sea Power, and the Tirpitz Plan, 1875 - 1914. Boston: Brill, 2002. Print.
Hoffman, Ross John Swartz. Great Britain and the German Trade Rivalry: 1875-1914. Philadelphia: U of Pennsylvania, 1933. Print.
Hough, Richard Alexander. Dreadnought, a History of the Modern Battleship. Penzance, Cornwall, UK: Periscope, 2003. Print.
Howard, Michael. Weapons and Peace. London: David Davies Memorial Institute of International Studies, 1983. Print.
Howard, Michael, and Michael Howard. The Lessons of History. Oxford: Oxford UP, 1995. Print.
Huggler, Justin. "Kaiser Wilhem's Early Drawings Shed New Light on Childhood." The Telegraph. Telegraph Media Group, 17 June 2014. Web. 28 Feb. 2017.
Hull, Isabel V. The Entourage of Kaiser Wilhelm II: 1888 - 1918. Cambridge: Cambridge U, 2004. Print.
Jastrow, Morris. The War and the Baghdad Railway: The Story of Asia Minor and Its Relation to the Present Conflict. Lippincott, 1918. Print.
Jefferson, Charles Edward. Three Men behind the Guns. New York: American Ass. for Internat. Conciliation, 1914. Print.
Joll, James, and Gordon Martel. The Origins of the First World War. Harlow: Pearson Longman, 2007. Print.
Keefer, Scott Andrew. "The Dreadnought Competition and Arms Control up to 1914." The Law of Nations and Britain's Quest for Naval Security (2016): 253-83. Print.
Keefer, Scott Andrew. The Law of Nations and Britain's Quest for Naval Security: International Law and Arms Control, 1898-1914. Cham: Palgrave Macmillan, Springer International AG, 2016. Print.
KennedyP. The Rise and Fall of the Great Powers: Economic Change and Military Conflict from 1500 to 2000. London: Hyman, 1988. Print.
Kennedy, Paul. Rise and Fall of British Naval Mastery. Place of Publication Not Identified: Penguin, 2016. Print.
Kennedy, Paul Michael. The Rise of the Anglo-German Antagonism 1860-1914. Amherst, NY: Humanity. Print.
Kennedy, Paul M. Strategy and Diplomacy 1870-1945: Eight Studies. London: Fontana, 1993. Print.
Kilverstone, Fisher Of, and Arthur J. Marder. Fear God and Dread Nought: The Correspondence of Admiral of the Fleet Lord Fisher of Kilverstone. London: Cape, 1959. Print.
Lambert, Nicholas A. "Admiral Sir John Fisher and the Concept of Flotilla Defence, 1904-1909." The Journal of Military History 59.4 (1995): 639. Print.
Lambert, Nicholas A. Sir John Fisher's Naval Revolution. Columbia, SC: U of South Carolina, 2003. Print.
Levy, Jack S., and John A. Vasquez. The Outbreak of the First World War: Structure, Politics, and Decision-making. Cambridge: Cambridge UP, 2014. Print.
Libeknecht, Karl. Militarism. Place of Publication Not Identified: Nabu, 2010. Print.
Lowe, John. The Great Powers, Imperialism, and the German Problem, 1865-1925. London: Routledge, 1994. Print.
MacMillan, Margaret. The War That Ended Peace: The Road to 1914. New York: Random House Trade Paperbacks, 2014. Print.
Mackenzie, Frederick Arthur. The American Invaders. New York: Arno, 1976. Print.
Mahan, A. T. From Sail to Steam: Recollections of Naval Life. London: Harper & Bros., 1991. Print.
Mahan, A. T., and Louis M. Hacker. The Influence of Sea Power upon History, 1660-1783. New York: Sagamore, 1957. Print.
Mahan, Alfred Thayer., and John Hattendorf. Mahan on Naval Strategy Selections from the Writings of Rear Admiral Alfred Thayer Mahan. New York: Naval Institute, 2015. Print.
Mann, Heinrich, and Paul Dehem. Der Untertan. Paris: Hachette, 1955. Print.
Marder, Arthur Jacob. From the Dreadnought to Scapa Flow: The Royal Navy in the Fisher Era, 1904-1919. London: O.U.P., 1970. Print.
Marder, Arthur Jacob. The Anatomy of British Sea Power; a History of British Naval Policy in the Pre-dreadnought Era, 1880-1905. Hamden, CT: Archon, 1964. Print.
Massie, Robert K. Dreadnought: Britain, Germany, and the Coming of the Great War. London: Vintage, 2007. Print.
McCordock, R. Stanley. Germany and the Russo-Japanese War. 1925. Print.
Mcdermott, John. "The Revolution in British Military Thinking from the Boer War to the Moroccan Crisis." Canadian Journal of History 9.2 (1974): 159-78. Print.
Mcdonald, David, and Keith Neilson. "Britain and the Last Tsar: British Policy and Russia 1894-1917." The American Historical Review 102.4 (1997): 1167. Print.
Mcdonough, F. Conservative Party and Anglo-german Relations 1905-1914. Place of Publication Not Identified: Palgrave Macmillan, 2014. Print.
Melville, Geo W. "The Naval Strength of the United States." Journal of the Franklin Institute 158.3 (1904): 209-32. Print.
Menning, Ralph Richard. The Art of the Possible: Documents on Great Power Diplomacy, 1814-1914. New York, NY: McGraw-Hill, 1996. Print.
Modelski, George, and William R. Thompson. Seapower in Global Politics, 1494-1993. Seattle: U of Washington, 1988. Print.
Moll, Kenneth L. "Politics, Power, and Panic: Britain's 1909 Dreadnought `Gap'" Military Affairs 29.3 (1965): 133. Print.
Mombauer, Annika. Die Julikrise: Europas Weg in Den Ersten Weltkrieg. München: Beck, 2014. Print.
Mombauer, Annika. Helmuth Von Moltke and the Origins of the First World War. Cambridge: Cambridge UP, 2005. Print.
Morris, A. J. A. Scaremongers: The Advocacy of War and Rearmament 1896-1914. Place of Publication Not Identified: Routledge, 2014. Print.
Mueller, John E. Retreat from Doomsday: The Obsolescence of Major War. New York: Basic, 1989. Print.
"Naval Race between Germany and Great Britain, 1898-1912." New Articles RSS. Web. 28 Feb. 2017.
Neilson, Francis. How Diplomats Make War. New York: B.W. Hoebsch, 1921. Print.
Offer, A. "Going to War in 1914: A Matter of Honor?" Politics & Society 23.2 (1995): 213-41. Print.
Ponting, Clive. Thirteen Days: The Road to the First World War. London: Chatto & Windus, 2002. Print.
Redford, Duncan, and Philip D. Grove. The Royal Navy. A History since 1900. London: I.B. Tauris, 2014. Print.
Reynolds, David. Britannia Overruled: British Policy and World Power in the Twentieth Century. London: Routledge, 2014. Print.
Riezler, Kurt, and Karl Dietrich Erdmann. Tagebücher, Aufsätze, Dokumente. Göttingen: Vandenhoeck & Ruprecht, 1972. Print.
Ross, Corey. Media and the Making of Modern Germany: Mass Communications, Society, and Politics from the Empire to the Third. Oxford: Oxford UP, 2010. Print.
Röhl, John C. G., Sheila De Bellaigue, and F. R. Bridge. Wilhelm II: Into the Abyss of War and Exile. Cambridge: Cambridge UP, 2013. Print.
Russell, Greg. "Alfred Thayer Mahan and American Geopolitics: The Conservatism and Realism of an Imperialist." Geopolitics 11.1 (2006): 119-40. Print.
Rüger, Jan. The Great Naval Game: Britain and Germany in the Age of Empire. Cambridge: Cambridge U, 2009. Print.
Rywkin, Michael. Russian Colonial Expansion to 1917. London: Mansell, 1988. Print.
Salewski, Michael. Die Deutschen Und Die See Studien Zur Deutschen Marinegeschichte Des 19. Und 20. Jahrhunderts. Stuttgart: Franz Steiner Verlag, 1998. Print.
Schleunes, Karl A. The Twisted Road to Auschwitz: Nazi Policy toward German Jews, 1933-1939. Urbana: U of Illinois, 1990. Print.
Singer, J. David. "Reconstructing the Correlates of War Dataset on Material Capabilities of States, 1816–1985." International Interactions 14.2 (1988): 115-32. Print.
Steinberg, Jonathan. "The Tirpitz Plan." The Historical Journal 16.01 (1973): 196. Print.
Stevenson, D. Armaments and the Coming of War: Europe, 1904-1914. Oxford: Clarendon, 2004. Print.
Sumida, Jon Tetsuro. "British Capital Ship Design and Fire Control in the Dreadnought Era: Sir John Fisher, Arthur Hungerford Pollen, and the Battle Cruiser." The Journal of Modern History 51.2 (1979): 206-30. Print.
Thompson, Wayne C. Nordic, Central, & Southeastern Europe 2013. Lanham, MD: Stryker-Post Publications, 2013. Print.
Trumpener, Ulrich. War Premeditated?: German Intelligence Operations in July 1914. Atlanta, GA: Emory U, 1976. Print.
Turner, L. C. F. (Leornard Charles Frederick). Origins of the First World War. 1970. Print.
Venier, Pascal. "The Geographical Pivot of History and Early Twentieth Century Geopolitical Culture." The Geographical Journal 170.4 (2004): 330-36. Print.
Vogel, Barbara. Deutsche Russlandpolitik: Das Scheitern Der Deutschen Weltpolitik Unter Bülow 1900-1906. Düsseldorf: Bertelsmann Universitätsverlag, 1975. Print.
Walkenhorst, Peter. Nation, Volk, Rasse: Radikaler Nationalismus Im Deutschen Kaiserreich 1890-1914. Göttingen: Vandenhoeck & Ruprecht, 2007. Print.
Weir, Gary E. Building the Kaiser's Navy: The Imperial Naval Office and German Industry in the Von Tirpitz Era, 1890-1919. Annapolis, MD: Naval Institute, 1992. Print.
Weitsman, Patricia A. Dangerous Alliances: Proponents of Peace, Weapons of War. Stanford (California): Stanford UP, 2004. Print.
Williams, Ernest Edwin. "Made in Germany," Brighton: Harvester, 1973. Print.
Williams, Rhodri. Defending the Empire: The Conservative Party and British Defence Policy, 1899-1915. New Haven, CT: Yale UP, 1991. Print.
Wilson, Keith M. The Policy of the Entente: Essays on the Determinants of British Foreign Policy, 1904-1914. Cambridge: Cambridge UP, 2009. Print.
Woods, Alan. "In Defence of Marxism." In Defence of Marxism. In Defence of Marxism, 04 July 2014. Web. 28 Feb. 2017.
Wright, Henry Lowndes. The Merchandise Marks Act, 1887: In Its Relation to the Cotton Trade. Manchester: John Heywood, 1887. Print.